Regular price
Sale price
$4.99 USD
Unit price
per
Sale
Sold out
Share
The last three instalments in this hilarious high fantasy witch series all wrapped up in a neat bundle.

The Head of the Horseman

Getting waylaid in the forest by a headless horseman wasn't what Gretchen was expecting in the dead of night, and she's on a mission to get her hat back from this ghostly thief. And evict her new houseguest while she's at it. Nora has given up her position with the baron, and has grandiose plans of taking up a seat on the Witches Council. Gretchen doesn't have the heart to tell her it's a long shot, but can't put up with her crowding up the cottage indefinitely.

The Kingmaker's Sword

Gretchen always knew her trusty infinity pouch held a world full of secrets, but she didn't imagine she was carrying around a relic that could bring down a kingdom. Or that it would land her into a boiling pot where she ends up a fugitive from the witches and wizards alike. But standing accused of a shocking crime she didn't commit, this witch refuses to give in.

Queen Mab's Castle

The glimmer of a portal in the sky is too much to resist when Gretchen finds herself feeling old and frumpy. And on the other side it's all booze and parties.Then she finds someone who looks a lot like Aunt Esme, and all thoughts of a bender are pushed aside. Fleeing into the fairy forest, Gretchen learns she's stumbled into Queen Mab's realm, and is now the fox fleeing the hounds.

For lighthearted fun with fickle moments of tragedy and feel good moments, join Gretchen on her travels in this final boxed set. You can't help but cheer for this purveyor of potions, unlikely champion of the downtrodden, and all round good samaritan of the magical world.

'This story reminded me irresistibly of Terry Pratchett's Discworld Witch books' - Two Books Blog
| | |
| --- | --- |
| Format: | eBook |
| Print Length: | 200 pages |
| Genre: | Humorous High Fantasy |
| Series: | Gretchen's (Mis)Adventures 10-12 boxed set |
View full details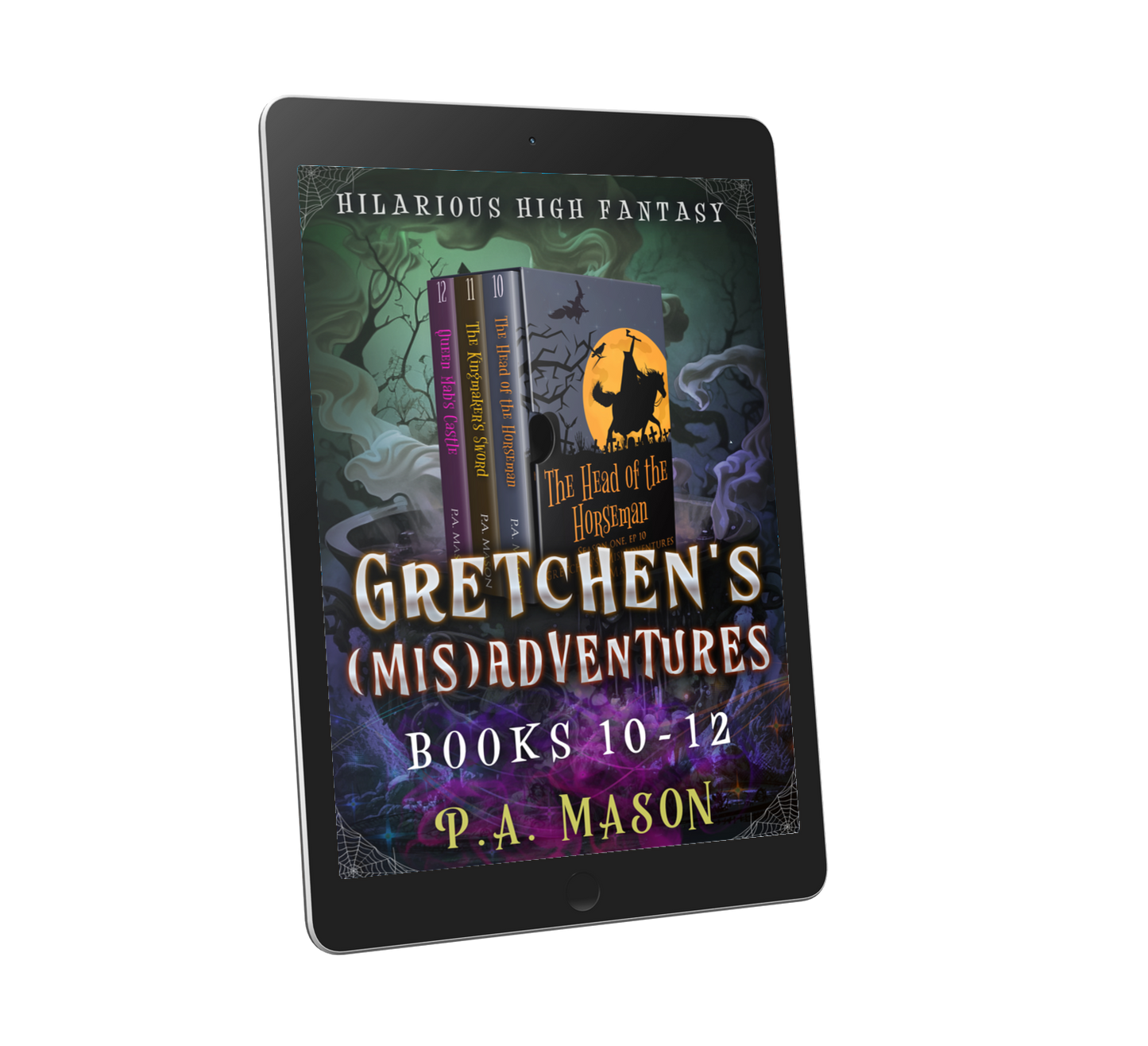 Description
The last three instalments in this hilarious high fantasy witch series all wrapped up in a neat bundle.

The Head of the Horseman

Getting waylaid in the forest by a headless horseman wasn't what Gretchen was expecting in the dead of night, and she's on a mission to get her hat back from this ghostly thief. And evict her new houseguest while she's at it. Nora has given up her position with the baron, and has grandiose plans of taking up a seat on the Witches Council. Gretchen doesn't have the heart to tell her it's a long shot, but can't put up with her crowding up the cottage indefinitely.

The Kingmaker's Sword

Gretchen always knew her trusty infinity pouch held a world full of secrets, but she didn't imagine she was carrying around a relic that could bring down a kingdom. Or that it would land her into a boiling pot where she ends up a fugitive from the witches and wizards alike. But standing accused of a shocking crime she didn't commit, this witch refuses to give in.

Queen Mab's Castle

The glimmer of a portal in the sky is too much to resist when Gretchen finds herself feeling old and frumpy. And on the other side it's all booze and parties.Then she finds someone who looks a lot like Aunt Esme, and all thoughts of a bender are pushed aside. Fleeing into the fairy forest, Gretchen learns she's stumbled into Queen Mab's realm, and is now the fox fleeing the hounds.

For lighthearted fun with fickle moments of tragedy and feel good moments, join Gretchen on her travels in this final boxed set. You can't help but cheer for this purveyor of potions, unlikely champion of the downtrodden, and all round good samaritan of the magical world.

'This story reminded me irresistibly of Terry Pratchett's Discworld Witch books' - Two Books Blog
| | |
| --- | --- |
| Format: | eBook |
| Print Length: | 200 pages |
| Genre: | Humorous High Fantasy |
| Series: | Gretchen's (Mis)Adventures 10-12 boxed set |
FAQs
eBook files

The eBook files which you can download are ePub's and MOBI's. The folks at BookFunnel will help you figure out which file you need automatically when you head to the download page.
Delivery

I use a company called BookFunnel to deliver eBooks and audiobooks purchased from my store. It's pretty simple—after you check out, you'll receive an email from BookFunnel with the link to download your purchase.

If the email hasn't arrived in 5 minutes, look for it in your spam or junk folder. If you used a different PayPal email address when checking out, the email could turn up there.
Reading your eBook

eBooks can be read on a bunch of devices—or with BookFunnel's own nifty app!

Books can be read on: Kindle Fire tablets after 2015, Nook tablets after 2014, Kobo eReaders apart from Kobo Aura, Apple devices:
Apple Books, iTunes, iPads, iPhones using a minimum of iOS 10+ (2016) (but most were upgraded to iOS 10 after 2012); Android Tablets and Phones after Android 5.1(2013); your computer using Chrome or Firefox browser.

You cannot download your ebooks to the BookFunnel app or read on the browser from the following:

Any E-Ink devices, including Kindle Paperwhite, Touch, Voyage, Oasis, NOOK Glowlight, Kobo Aura.

Internet Explorer browser

Kindle Fire 1st Gen (2011)

NOOK Color (2010), NOOK Tablet (2011), NOOK HD (2012)

SOLUTION: If you have one of these, simply install Chrome or Firefox on your computer!

OR

You can listen to the MP3 files on your computer or on any MP3 playing device.

OR

You can simply stream to your browser!